Replacing or restoring the roof of your home or business is an exacting process requiring meticulous craftsmanship, top quality materials and an efficient and convenient installation process.
Beyond supplying you with the best crafted roof, Peakmasters strives to form a great relationship with our clients - being always present and available with answers to your questions and ensuring minimal disruption to your lifestyle during the roofing process. We have earned a valued reputation as a company that is approachable, friendly and detail oriented at every stage.
The following information gives you an overview of some of the processes involved in the roofing of your home.
Learn more about Enviroshake roofing materials

---
The Roofing Process
From the re-roofing experts covering the Lower Mainland and surrounding areas—White Rock, Surrey, Langley and Abbotsford. We are licensed installers of Enviroshake® roofing materials.
Preparation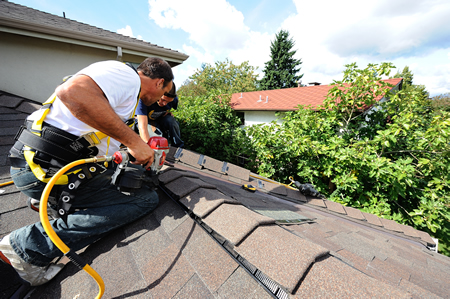 In the case of re-roofing, old asphalt shingles and any old underlayment are to be removed and discarded appropriately. The deck gets a thorough inspection for any rotten spots and repaired using same thickness wood. After that we ensure the deck is smooth, firm and dry before application of the roofing starts.
In the case of re-roofing, old cedar shakes and any old underlayment are to be removed and discarded appropriately.  Once this is done we sheet your entire roof with a top grade "fir" plywood to ensure no future warpage, deforming or buckling occures. 
We always use a synthetic underlayment.  These are artificially manufactured materials from polypropylene, fiberglass, polyethylene and polyester. They are light materials that are placed under the roofing shingles, offering a lighter, water and radiation resistant barrier for the roof deck. The materials make for a more efficient water barrier without the factoring of mass, meaning that the sheets are significantly thinner and lighter compared to felt paper roofing underlayment
Metal Drip-Edge: For efficient water shedding, a metal drip edge is installed at the edge of the roof over eaves.  All metal furnace B-Vent collars, chimney, skylight  are all removed and replaced with new metalflashing  Diverters are installed at every facias edge to properly divert any future water damage to the facia boards.
Proper protection of all shrubs, flower gardens, patio's, walk ways and all walls of your home and neighbors are boarded with plywood to shield any falling debris that would cause damage.  We have a no flicking butt's policy and a huge cleanup of the grounds every day before leaving your home giving you a pristine unobstructed welcoming home after a hard day's work.
---
Shingle Installation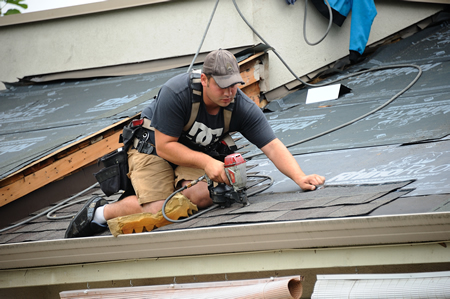 Out of all the phases of the roofing process, shingle installation is the one that can make or break the end result. Listed below are the steps we undertake to ensure the shingle system meets and exceeds manufacturer standards of installation.
POSITIONING: Caution must be exercised to ensure that end joints are no closer than 2" from fastener in the shingle below and that side laps are no less than 4" in succeeding courses.
SEAL AROUND FLASHINGS: Shingles are precision cut around vents, flashings, valleys and side edges of roof. Extra cement is applied along the flashings within 3" of the edge of the shingles.
---
Ridge Cap Shingles
Ridge cap shingles are applied beginning at the bottom of the hip or the ridge opposite the direction of the prevailing winds. 4 nails per ridge cap shingle are used, 2 on each side, 1" from the edge so succeeding shingles conceal nail heads.  There are 2 kinds of ridge cap shingles, namely, regular and high profile ridge cap shingles.
REGULAR RIDGE CAP: Consists of single layer cut-up strip shingles.
HIGH PROFILE RIDGE CAP: As shown here is a ready made, double layered shingles that ensures multi-layer protection at the highest stress areas of the roof (the hips and ridges). Accentuates the natural beauty of your new shingle roof providing the look of thick wood shakes.
---
Ventilation
Once the roof deck has been prepared, an inspection is done to see that it contains enough vent holes. Proper ventilation is important, in order to remove the excess attic heat during the summer and excess water vapour during the winter. BC building codes specifications are followed accordingly. We provide and install a range of venting solutions, including attic vents, phoenix vents.
The best available ventilation in the world today is the ridge venting system shown in the below pictures  This replaces the old conventional AF-50 square boxes you see today and for the past fifty years.  The ridge venting system is more technical and labour intensive but at PeakMasters we are proud to provide this at no additional cost to our customers. 
Other common features of Omni Series Ridge Vents are the air flow acceleration design, which maximizes ventilation capacity, along with the internal aerodynamic curved baffles and external perpendicular omni baffles, which maximize weather protection. External omni baffles allow air flow from any direction while the internal baffles maintain superior weather protection and performance with no filter to clog. Each Omni Series Ridge Vent design is field tested and proven effective under all weather conditions.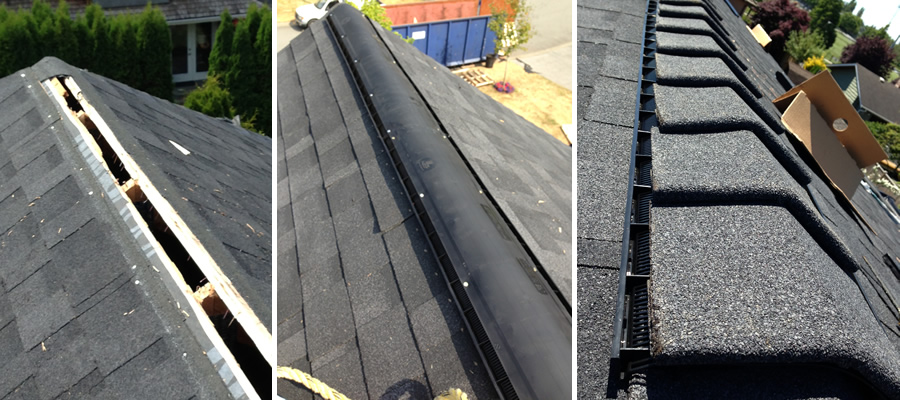 ---
Ice and Water Protection
For protection against ice and water damage, eaves protection or ice and water membrane ought to be installed for at least 3' from the eave. Areas with severe icing and frequent freeze/thaw cycles, 5' from the eave or two rows of the membrane are recommended. A layer of the waterproofing membrane is used as underlayment in the valleys before the valley metal installation.
---
Underlay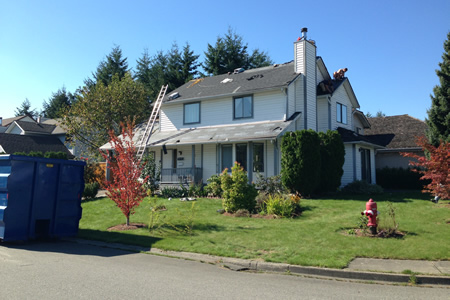 Building codes states that for fibreglass shingles below 8/12 slope, 1 ply of an approved underlayment parallel to eaves over the portion of roof deck not already covered by ice and water membrane. Instead we cover the entire roof with a synthetic underlayment, except the areas with ice and water membrane. We provide and install a range of synthetic underlays with the below advantages.
Synthetic construction is impervious to mold growth.
Lays flat and does not absorb water and wrinkle.
Enhanced UV protection.
No oil leaching with no hazardous material content.
25 x Stronger than traditional 15 lb roofing felt.
---
Flashings
Most roofs have joints and breaks such as valleys, dormers, chimneys, vents etc.. Care must be taken that flashings are waterproof to avoid leakage at these danger points.
VALLEY METAL FLASHING: For longer roof performance, metal valley flashing is crucial. After the ice and water membrane is applied, valley metal is nailed on the edges and tight to the deck. When the shingles are applied, the valley metal can be covered with shingles, called a closed valley, or cement applied on the edges and the shingles cut in a straight line parallel to the valley.
CHIMNEY FLASHING: The most common chimney flashing is made of sheet metal, and is the only type we install. Once the roof deck is prepared, we know if the chimney needs a partial or full re-flashing. We will inform you as soon as something like this is noticed and options will be discussed along with anything else that might be concerning.
STEP FLASHINGS: Anywhere the roof meets a house wall it is a dangerous area for possible leaks if not done right. There needs to be a step flashing for every layer of shingle long enough to overlap over each other by at least 2''. The shingles overlapping the flashing have to be cut so they fit perfect next to the flashing to prevent any leaks.
---
Fastening and Clean-up
FASTENING: The bottom of vents, chimneys, skylights and wall flashings are not to be covered by shingles to prevent ice and water damming. The fasteners (nails and screws) holding them down are cemented with high-grade roofing silicone.
CLEAN-UP: The last but most important important step of a properly installed roof is the clean-up. All debris are removed from site and we use a magnetic roller to remove any and all loose nails and staples.
---
Guarantee
Our guarantee is simple: We are 100% responsible for the quality of workmanship of your roof. We guarantee our service with an iron-clad warranty that covers every inch of work we perform on your roof. If you are not satisfied, we gladly fix the problem.
---
---
Request an Estimate
Please call us at 604-783-1345