Peakmasters offers a full range of residential and commercial maintenance services including Gutter Cleaning, Siding Cleaning and Pressure Washing.
Not only can commercial strata maintenance add beauty and value to your business or home, it can also significantly reduce your energy bills, as well as eliminate the need for unnecessary maintenance. In order to get the full benefits of what siding and gutters can do, it must be professionally and efficiently cleaned. This is where the experts at Peakmasters come in. We offer a huge selection of commercial strata maintenance options for your business or residence, including:
Gutter Cleaning
Pressure Washing
Siding Cleaning
If you are not sure which service will best help your business or home, our knowledgeable staff will be more than happy to assist you. We have been providing Abbotsford-area property owners with commercial strata maintenance services for years. We will perform the right work to protect your home or business from deep seated germs, bugs, and mold. You can depend on Peakmasters for exceptional-quality workmanship by a extensively trained crew.
We pride ourselves on getting your commercial strata maintenance project done right the first time. By being in the roofing business for years, we know that siding is a simple and affordable way to give the exterior of your home a brand new look, saving you from having to get a new paint job every few years. Therefore, our roofers understand the importance of keeping your siding cleaned. Our team will be happy to discuss with you how we can be of service to you and your property.
The equipment we use is top-quality and resilient, so you do not have to be concern with it not getting your gutters or siding completely cleaned. After every job, we perform a walkthrough to make sure that our work is pleasing to you. Regardless of what type of gutters and siding you have, our commercial strata maintenance work is in a class all by itself. If you are interested in getting your gutters professionally cleaned, consider us!
Keeping your gutters clean is one of the most important tasks you can do to preserve the beauty and value of your home. When gutters are full with leaves, dirt, and other debris, they become heavy and become detached from your home, resulting in damage to the soffit and fascia areas. Additionally, rainwater will overflow and can come inside your home.
Our quality approach to gutter cleaning delivers a high-quality professional job every time. All of our team members are well trained to ensure a supreme level of service and to enhance the customer's experience.
All of commercial strata maintenance work is guaranteed, and every individual who works for us is licensed and insured. Our insurance not only protects us, but it protects you as well. We try to make our commercial strata maintenance visits to your home or business as hassle-free as possible. When you pick us to do business with, you are choosing an Abbotsford-area roofing company that has provided commercial and residential owners with outstanding service for years. When time comes to get your gutters or siding thoroughly cleaned, turn to Peakmasters.
Gutter Cleaning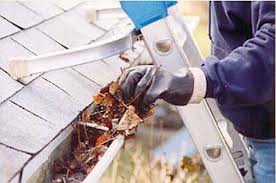 Due to our West Coast climate, gutter cleaning is a must in order to maintain a healthy building structure. Lack of cleaning gutters in a timely manner can lead to serious damage in the fascia, eaves, and foundation of a building.
Our trained roofing specialists carefully place ladders using stand-off bars to ensure your gutters are never damaged. All debris is removed from your gutters. The gutter's downspouts are flushed to ensure your gutter system is working as it was designed to. If your gutter's downspout are clogged they will be taken apart and cleaned thoroughly. Lastly, the face of the gutters are cleaned to keep your home looking like new. All debris is bagged and hauled away, leaving your property pristine perfect condition.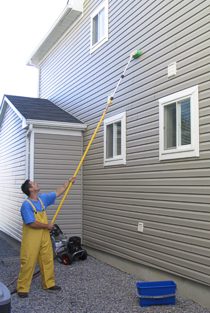 Siding Cleaning
The siding on your home accumulates a host of dirt, grime and stains such as pollen, bird and insect droppings, spider webs and rust. In shady, moist areas, mold and mildew grows. Vinyl is also vulnerable to discoloring effects from insecticides, herbicides, and fertilizers. In addition, vinyl siding's finish may be marred by a number of commonly used household maintenance products, including caulking, driveway sealant, tar, motor oil and paint. Fortunately siding is relatively easy to clean. We utilize a wide variety of eco-friendly products to remove typical stains. Following the best practices of the Vinyl Siding Institute, we perform the wash and rinse process with a soft cloth or an ordinary long-handled, soft-bristle brush. We start at the bottom of the house and work upward to prevent streaking.
Pressure Washing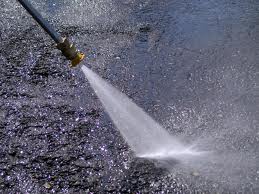 Peakmasters offers our residential customers professional pressure washing and exterior cleaning of stucco, wood, brick, siding, patios, sidewalks, driveways roofs and gutters. Working with extreme care, we specialize in restoring every aspect of your home exterior and property to its ultimate "Curb-appeal" condition.
---
Request an Estimate
Please call us at 604-783-1345